How Much Destination Wedding in Raffles Udaipur Costs? All about Raffles Udaipur Wedding
Want to define the Raffles Udaipur in a few words than "Perfect island of beauty" is the best answer for that. So from this answer, it is clear that the raffle is the real gem of Udaipur. And the Raffle Brand is the pioneer in providing great space for planning your dream destination wedding.
From its hospitality to its topnotch services Raffle does not give a single reason to the couples to say no to plan their wedding at Raffles. Whatever you have dreamt for your dream wedding will come true at this Perfect island of beauty. The Raffle Hotel is located on an intimate island in the heart of Udai Sagar Lake. Enclosed by hills and with a view of a 400-year old temple. Raffles Udaipur is a shelter that draws everyone's attention to visit and discover the city of Udaipur.
Here comes the question " how much will this luxurious treat cost? So the answer is 1.50 Crore + GST per day with a guest list of 202 guests. The raffle Brand is not famous in India but it is famous all over the world.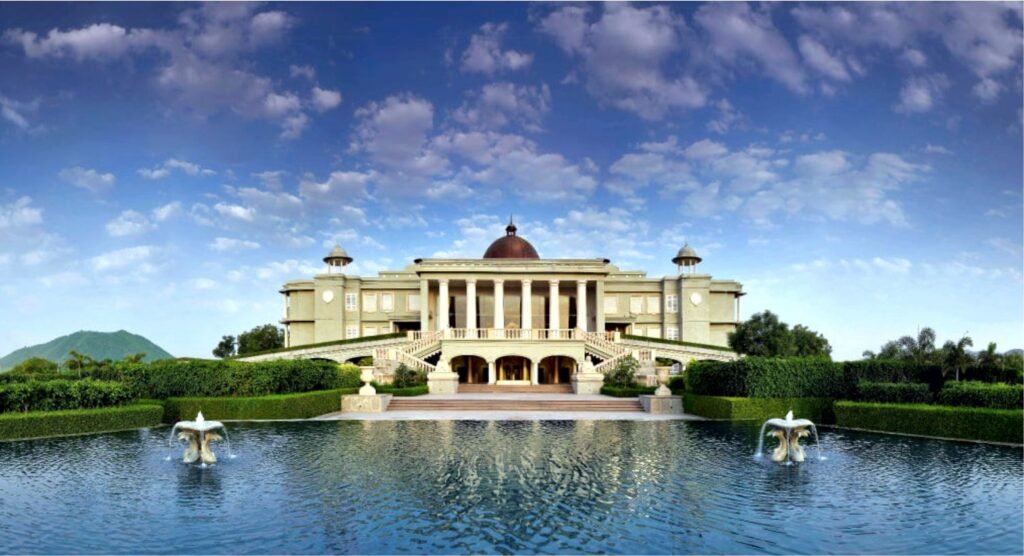 Total Cost of Wedding At Raffles Udaipur
The Raffles is an International Brand and has set its standards. From Paris, TDubaithe brand is offering world-class services. So get ready to experience the classic services offered by the brand.
Are you struggling in finding the detailed information, In this blog, we will be sharing the price distribution in detail? And we make sure after reading this blog you won't be searching for any other blog. As we will be covering everything. So half of your worries will end with this blog so read it till the end.
Food Expensess
Nowadays it's a trend to serve both National and International cruises at weddings. And all of us want our guests to enjoy every meal we serve to them. At Raffles, you will get everything from desi ghee ke tadke wala Rajasthani Khana to delectable Italian dishes.
And of course, it's very important to count on Food Expenses as it holds a major portion of the total cost of a wedding at Raffles. So, let's look at the charges.
The Cost of Food is included in the Above Package
Accommodation
Who doesn't want to give their guests classic and royal accommodation? High tech room with all the facilities and services with amazing views.
At Raffles Udaipur all the rooms are air-conditioned. And all the rooms are equipped with minibars, wifi, 55-inch flat-screen TVs, and coffee makers. The beds are provided with high-quality cotton sheets and pillows. And you will get all the bathroom accessories like a hairdryer and toiletries.
There are in total 101 rooms and categorized into 6 categories. So you can plan a guest list of 200 – 300 people.
| | |
| --- | --- |
| Room Type offered on Single/Double occupancy | Numbers of Rooms |
| Flamingo Signature Room | 64 |
| Flamingo Signature Room with Garden | 8 |
| Flamingo Signature Room with Pool | 12 |
| Raffles Manor Suite | 10 |
| Raffles Oasis Suite with Pool | 6 |
| Raffles Presidential Suite | 1 |
The charges also vary as per the category.
Wedding Decor
Wedding decorations are not just about flowers and lights. It's beyond that. Udaipur is like a dream destination for everyone. And just like you every couple wants their wedding to be perfect. Decorations and proper arrangements add another sort of glory to your wedding.
We have highly experienced wedding decoration artists who will try their best to make your dream wedding decoration come true. The decor is the star in every wedding which sets the theme and mood of the wedding.
So, Let's take a look at the charges of wedding decoration,
Makeup and Mehendi CostWedding Decor Cost will be approx Rs. 30 Lakhs – Rs. 70 Lakhs and it may go higher depending on your choice of decor
What Is Included In Wedding Decor?
The ceremony lies at the very core of the wedding. Amid love and forever marriage, who doesn't want to get married under the most gorgeous mandap decor? Sounds so romantic right? Planning a wedding is such a hectic job as you have to take care of your wedding dresses, your make-up, and whatnot. So, leave it on our wedding decoration artists.
Along with that flowers, lighting, candles, rocking entry of the couple and other decorative items will make every corner of the wedding even more beautiful. We know you want every moment of the wedding to be cherished forever. Wedding decor includes tenting, furniture, floral, and other decor elements for wedding decoration. This will include.
Along with that flowers, lighting, candles, rocking entry of the couple and other decorative items will make every corner of the wedding even more beautiful. We know you want every moment of the wedding to be cherished forever. Decor for Haldi, Mehendi, Engagement, Sangeet, Wedding, Reception, and including all other Functions. This will include.
Wedding Furniture
Structures and Fabrics
Tents, Lights
Floral Decor
Wedding Rentals
Props
Photobooths
Makeup And Mehendi Cost
Are you looking for a Deepika Padukon or Priyanka Chopra bridal look? Or have you decided on your bridal look? So to help you in getting your Dolled-up look we have super experienced and talented makeup artists. But as you know Udaipur is a pioneer of destination weddings and make-up artists remain busy with the bookings. So take prior appointments to avoid last-minute mess. So Makeup will cost you somewhere between 5k- 10k and it goes beyond that depending upon your Make-up artist.
Coming on to every girl's favorite Mehendi ceremony. There will be a separate Mehendi artist for the bride and separate Mehendi artists for guests. And we can even arrange the Mehendi artists for both the bride's and groom's sides.
Bridal Makeup cost: Rs. 10,000 – Rs. 25,000 (again it may go higher depending on the choice of the artist)
Mehendi Cost: Rs. 5000 – 10,000 for bride
DJ And Sound Cost
Without a DJ every wedding ceremony is like a lake without water. DJ is the heart of a wedding so it is important to book a good DJ artist. And an experienced DJ knows what type of songs & music suits for a wedding function. Even a DJ artist will help you and your guest to choose the perfect songs for sangeet ceremony day. So get ready with your steps and dance moves, one of the best DJs is waiting and set the stage on fire and what, and it will levitate the audience's mood. Time to check the charges of DJ and Sound system.
Professional Sound Setup Cost: Rs 5,00,000 – Rs 10,00,000 (For all wedding functions)
DJ Cost: Rs. 5000 to 25000 per function
Photography Cost
Indian weddings are all about capturing the entire wedding. They not only capture the couple, but also the guests, decorations, and everything. Photos are meant to be cherished for a lifetime. Photographers will capture all the emotions, from smiling dancing faces to bride tears, and laughter, your expensive dresses, and all the candid moments.
Our professional photographer knows how to capture the significant moments and the beauty of the venue. And we all know how beautiful and elegant Raffles is so you can not miss any corner of it. Let's check how much a photographer will charge you.
The cost of Wedding Photography is Rs. 3,00,000 – Rs. 6,00,000
Folk Artists
Rajasthani culture and traditions are famous all over India. The authenticity of the state lies in traditional Rajasthani songs and dances. So, how about inviting a group of Rajasthani Folk artists to your wedding. Their traditional attire and Rajasthani makeup showcase the real Rajasthan. Let's take a look at how much these artists will charge you.
The cost of a Folk Artist is Rs. 15,000 – Rs 25,000
Logistics And Transport Cost
On the wedding day, many relatives and guests come and it will be difficult for you to pick them from the airport and station. So the best solution is to hire a logistics and transport team. So that you and your family will be free and the Logistics crew will take care of your guest's pick and drop. And they will be at your service for a full day (12 hrs)
| | |
| --- | --- |
| Service | Price |
| Airport Pickup & Drop | Rs. 1800 |
| Railway Station Pickup & Drop | Rs. 1800 |
| Full-Day Hire (12 Hours) | Rs. 4000 |
About Raffles Udaipur
Time to share some more information about the Raffles so it will be even easier for you to choose them for your wedding. The Hotel is spread over 21 acres and we can say it's an island located in the arms of flora and fauna. And its beauty is just marvelous.
History
Among one of the world's biggest and luxurious brands, introducing Raffles Hotels and Resorts, originated in Singapore (In 1887) left a landmark with astonishing and magnificent services and made every customer happy till today. And within a few years after the first installation, Raffles started landing in different countries and slowly covered other regions of the world.
Architecture
Udaipur Raffles is located in the middle of Lake Udai Sagar which could make your eyes freeze, look no less than a fairy tale world. This hotel is spread over 21 acres of area on a private island. The whole architecture of Raffles Udaipur construction is done in a European design, which makes it look very high class and royal palace.
It even has a 400 years old temple that could provide you mental peace in a husky-busky world and will give your mind a sense of purity and energy.
Service
Udaipur Raffles Hotel and Resort is ready to strive like other Raffles to provide intuitive and glorious full services to all customers. The staff of Raffles will stay in your services. From a warm welcome with their signature drink
FAQ About Raffles Udaipur
How Much Raffles Udaipur Wedding Cost for 3 days?
The wedding cost at Raffles is 1.50 Crore + GST per day with a guest list of 202 guests. accordingly the wedding cost for 3 days will be 4.5 Crore + GST.
How many rooms does Raffles Udaipur have?
There are a total of 101 rooms in the hotel. And these rooms are categorized into 6 categories.
Should I have to book all rooms if I am planning my wedding at Raffles Udaipur?
Yes, if you book all the rooms of the hotel for your wedding then you will be able to enjoy the whole privacy of the hotel. 
Is the price of Raffles Udaipur varying according to season?
Yes, the price of Raffles Udaipur varies according to season.
Is Raffles Udaipur open for weddings?
Yes, the raffles are open for weddings.
Let Us Help You In Planning Your Wedding At Raffles Udaipur
Fill This Form To Get In Touch With Us