How Much a Destination Wedding in Taj Lake Palace Costs? All about Taj Lake Palace Wedding
The Hotel Taj Lake Palace is known for two things: its popularity and the other for its luxury. And a wedding at Taj Lake Palace is like a dream. As you are planning your wedding, you must be tired of finding the actual price of the Taj Lake Palace wedding cost on the other blogs on the internet. So to take your load off we have curated this blog with the maximum actual information on weddings at Taj Lake Palace.
As you are planning your dream wedding, here comes the challenge to find the actual Taj Lake Palace wedding cost.
In this blog, we will take you through the wedding cost at Taj Lake Palace as well as the reviews of the hotel in every aspect. And we will also share why this property is on our list of favourite properties. And some restrictions which you should know while you plan your wedding at Taj Lake Palace. You will get to know a lot about this Palace in this single blog.
Let's find out how much you have to spend for the Luxurious dream destination wedding at Taj Lake Palace Udaipur. So, if we talk about the cost of Taj Lake Palace in one line it is 1 Cr with a guest list of 160 people. We have verified the cost from the hotel itself. There are 80 rooms in the hotel so maximum occupancy will be around 160. So, you need to make a guest list accordingly. 
Do not stop here as we have explained the detailed cost of your dream destination wedding at Taj Lake Palace. And surely it will help you in knowing every minute detail of the Palace.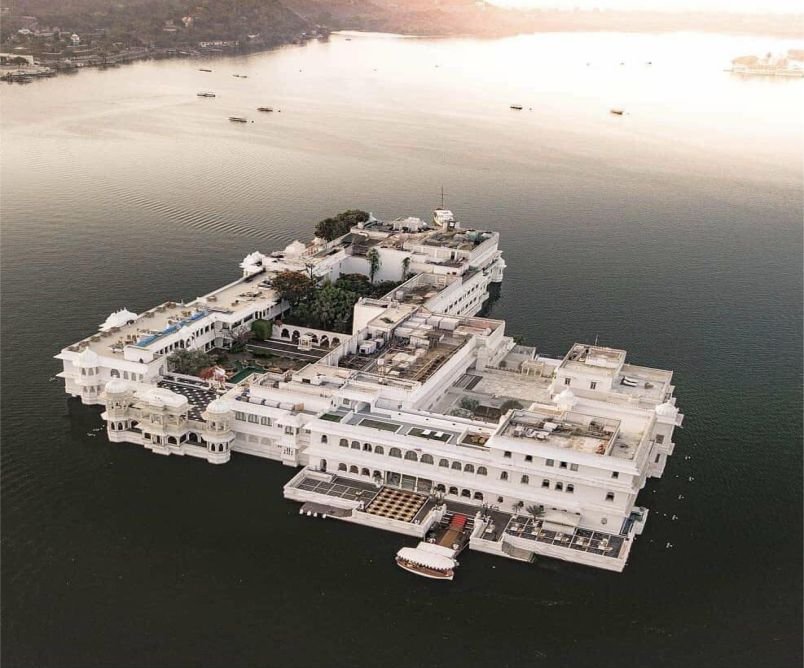 Total Cost of Wedding at Taj Lake Palace
Without taking much time, we will directly take you to the point that you are searching for. Now we are going to share the detailed cost of the wedding at Taj Lake Palace. For an estimated list of 160 guests, the weddings at taj lake palace will cost you around 1Cr. This includes accommodation and all meals for 2 days. Other things like Wedding planners, wedding decor, artist, makeup, Mehendi, logistics will cost between 30-50 Lakh (average price).
Let's calculate all costs in depth.
Food Expenses
Treat your guests to the authentic flavours of Rajasthan and signature dishes of India. The Taj Lake Palace offers multiple cuisines throughout the day with delicious tastes.
This cost is included in the above estimate of 1 Cr.
| | |
| --- | --- |
| Meal Type | Price of Meal for Wedding |
| Lunch | Rs. 9,500 + 18% Taxes |
| High Tea | Rs. 5000 + 18% Taxes |
| Dinner | Rs. 12,500 + 18% Taxes |
| Beverages with Lunch | Rs. 1000 + 18% Taxes |
| Beverages with Dinner | Rs. 1250 + 18% Taxes |
Accommodation
The biggest expense at a wedding is the accommodation. And the Taj Lake Palace in Udaipur will provide you with the most luxurious accommodation. The hotel provides you with 80 rooms in seven categories which are as follows.
Luxurious room with pond view
A luxurious home with Lake View
Palace room with Lake View
Suite with Lake View
Royal Suite with Lake View
Grand Royal Suite with Lake View
Grand presidential suite with Lake View
The Taj lake palace room price for weddings is Rs. 45,000 to Rs. 6,00,000 per night.
This cost is also included in the above estimate of 1 Cr.
Venue Charges
The Taj lake palace does not charge anything for the venue if you are buying out all the rooms.
Wedding Decoration
Have you also planned the theme wedding decoration for your day? It's a very lame question to ask, Everybody, plans their wedding decoration as it will be captured in the pictures for a lifetime.
Flowers, lights, candles and other decorative items will make every corner of the palaces even more beautiful. From Mehendi ceremony decoration to rocking couple seatings we know you will not compromise with any of it. Now it's time to know how much it will charge you to decorate your dreamland for your dream day.
Taj lake palace wedding decoration cost will be Rs. 15 Lakhs to Rs. 40 Lakhs. You have to hire a good wedding decorator to make your dream day special
And, of course, it is a big number, but the decoration will attract guests' eyes and will be mesmerized with the Palace's beauty. Note- this cost is not included in the above estimate
What includes in Wedding Decor
We know very well that you want all the decorations to be perfect and fit together perfectly. Decorations are of two types. The first is the traditional wedding decoration associated with the ceremony, and the other one is the modern decorations for your cocktail night and other parties.
Some traditions are handed down through generations and have become part of every wedding that needs a different type of decoration. Wedding Decor Includes Tenting, Lighting, Floral, Furniture, and other decor elements for
Mandap decoration.
Haldi ceremony decoration
Mehendi ceremony decoration
Sangeet ceremony decoration
Engagement ceremony decoration and any other function that is on your list
These costs are tentative and can go slightly up or down depending upon your requirements. And it covers all wedding decor related things
Makeup and Mehendi Cost
We know your wedding is a major event in your life as you and your partner are getting hitched for a lifetime. And of course, you want to make your partner fall in love with you again, you must look beautiful on your big day. So let's take a look at how much bridal makeup will cost you. The Makeup costs at taj lake palace Udaipur will range between Rs.10,000- Rs.25,000, it also depends upon the makeup artists. The Mehendi is not just about the product but also the idea that once you try it on, you will fall in love with it and want to wear it every day. So let's take a look at the prices of Mehendi. The cost of Bridal Mehndi is around 5k-10k and for the guest mehendi the mehendi artist will charge around Rs. 2500 for 3 hours.
DJ and Sound Cost
While planning your wedding, we can not forget about the DJ Wala Babu who will make your guests move on his beats. So without taking your much time let's talk about the cost of a DJ and Sound system. A professional wedding DJ can cost Rs.10,000- Rs.15,000 per function.
Cost also depends upon the artist you are hiring. So If you are planning to hire a professional DJ artist for all the functions then both DJ and sound system will cost you somewhere between Rs.5,00,000 – Rs.10,00,000. It includes all professional sound for all functions
Photography Cost
Destination wedding in taj lake palace Udaipur is the perfect place to capture your wedding day photographs. Your photographer will take you on a visual journey that will touch every part of your being. It will be unforgettable, and you won't want to let them down. And it will cost you around Rs.3,00,000- Rs.6,00,000.
Folk Artists
The most amazing Folk artists of Rajasthan are famous for their unique artistry style. You and your guests will be entertained by beautiful Rajasthani music and dances. So, you can invite a group of 5-7 people which will cost around Rs.15,000 – Rs. 25,000 and make your wedding day even more memorable.
Logistics and Transport Cost
The Logistics crew will help you in taking care of your guests pick and drop services. So, if you hire them you will be tension-free. The transportation charges will be
Rs.1800 for both pick and drop from the airport.
And Rs.4000 for a full-day (12 hrs)
Other Expenses
If you want to remain stress-free on your wedding day, then you should be ready with some extra cash. And while planning a wedding at Taj lake palace, you should be prepared with a good handsome amount as the Hotel is also known for its expenses. But planning everything will cut down your stress.
Things to keep in mind while planning a wedding at Taj Lake Palace
Taj Lake Palace provides the perfect backdrop for your big day. The Palace offers a traditional and pure Indian wedding ceremony and culture to suit all varieties of individuals while at the same time providing a luxurious setting which would make your big day a memorable one. But there are many limitations which you should know before you book the Palace.
Firstly you have to take permission for almost everything.
Secondly, the space area is quite less.
Thirdly, you can only use small pieces of furniture as most of the furniture is heavy, and it's tough to move them.
About Taj Lake Palace (Architecture, Services and Surroundings)
Wedding at Hotel Taj Lake Palace Udaipur is the most romantic place to get married. Taj Lake Palace is an architectural gem. An exotic view of the lake and its natural beauty makes it one of India's most beautiful palaces. This royal complex is spread over an area of 20,000 square feet. The romantic atmosphere, traditional dresses and wonderful services of the Taj Lake Palace will give you a true marriage feeling. Each room in the Palace is beautifully furnished with luxurious fabrics, antiques, and artwork to enhance any experience you create here. A wedding at Taj Lake Palace in Udaipur will be the most memorable event of your young life as it is the best Hotel in Udaipur and makes your dream wedding a reality. The Hotel offers international services to its guests.
At Taj Lake Palace, you will have your privacy and get an opportunity to spend some more valuable time with your loved ones.
About its Surroundings
The charming Taj Lake Palace is floating on a beautiful Pichola Lake. It looks like a beautiful island, and you can take a 360-degree view of the lake and city. So now you can imagine how romantic the view will be when you will get hitched to the love of your life at such a mesmerizing location. I must say you have picked an ideal place to capture your memory for life long. Nothing can be better than starting your married life in such a grand way. So do not miss out on this once-in-a-lifetime opportunity to tie the knot with your loved one in this romantic setting. From your traditional ceremonies to your Cocktail parties, Taj Lake Palace can deliver it to you in the most innovative way.
Moreover, Taj Lake Palace makes sure to give a first-class experience to your guests with their services. And I am sure that the charm of the palace will make your guests its fan. And every corner of the palace will make you fall in love with it.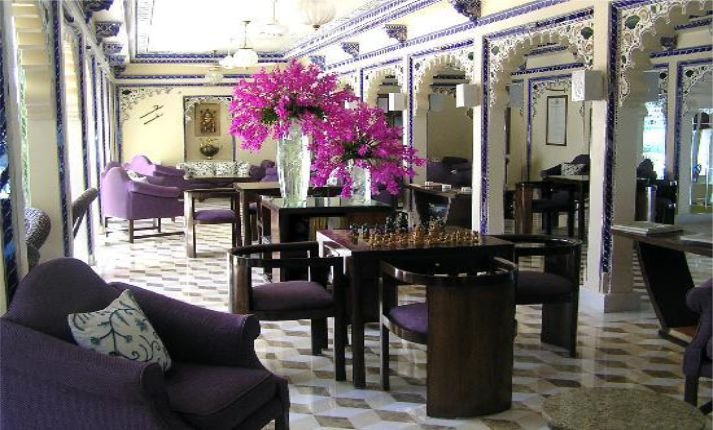 FAQ about the Wedding Planning at Taj Lake Place Udaipur
How much is the Taj Lake Palace room price for a wedding?
For Weddings, It will cost you somewhere between Rs.45,000 to Rs.6,00,000 per room per night.
What is the Taj Lake Palace lunch and dinner price for weddings?
Taj Lake Palace is one of the most popular and iconic wedding and special event venues in India. It is a destination of cultural refinement and luxury. The Hotel offers multiple cuisines with mouth-watering cuisines. Lunch for a person will cost you around Rs.9500+18% taxes, and dinner will cost you around Rs.12,500 + 18% taxes a person.
How many rooms does Taj Lake Palace have?
There are 80 rooms in all at Hotel Taj Lake Palace. And all the rooms are categorized into seven categories.
Should I have to book all rooms if I plan my wedding at Taj Lake Palace?
Yes, you have to book all the rooms if you plan your wedding at Taj Lake Palace because the Hotel does not allow you to book less than 80 rooms. 
Does Behind the scene provide any package for a wedding at Taj Lake Palace?
Yes, Behind the scenes can help you provide good packages for your wedding at Taj Lake Palace.
How Much Taj Lake Palace wedding cost for 2 days?
Taj Lake Palace Udaipur will charge 1 Cr for the guest list of 160 people including all rooms and meals. Other things like wedding decor, wedding artists, Music, DJ etc will cost 30-50 Lakh.

Let us help in plan your wedding at Taj Lake Palace
Fill this form to get in touch with us