Corporate Event Planner
Behind The Scene – A full-service corporate event planner
Corporate Event Planning In India
Corporate Events have become a perpetual part of today's business led world, all empowered with highly established MNC's and rapidly growing start-ups. The recent incentives in India to budding entrepreneurs and their innovative ideas has proved really motivating for our young talented minds to come up and own their space in this continuously advancing world. And when it comes to building empires, it takes a lot of hands to come together and join the purpose. This in turn cannot be achieved only by working day and night at your desks and thus asks for some out of office events, i.e., Corporate Events, that serves multi purposefully by serving as a perfect blend of work and leisure and of course, communication, a vital part to any business.
While corporate events could be planned for various purposes ranging from team building, product launches, company leadership meetings, staff training, social media marketing, sales promotion etc., what should be kept in mind is that corporate events bring with them higher discipline and stricter norms. Planning corporate events needs precision and multi-team engagement. Therefore, we at Behind The Scenes have devised a framework through which all our corporate event plans has to pass through.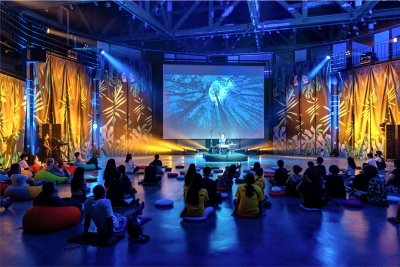 Process Of Planning A Corporate Event
Finalising The Event Objective And Scope
The first and foremost step is deciding on what kind of event has to take place, what will be the dedicated running time of the event and the guest capacity. This helps the planner to evaluate the scope and aspects related to budget, venue arrangements, food requirements, ticket bookings, room management if it is a multi-day event, logistics and recreational arrangements. Any special guests or special arrangements required has to be informed at this stage itself in order to come to a conclusion on the final requirements. Early communication also gives a window to the planner to negotiate with the agencies and put their best quote forward.
Knowing Your Client
The next step towards sound planning is knowing about what your client does. The more you know about your client's work profile, the better you will be able to personalise the event experience for him and his employees. Taking leads on the work culture and client mindset could also help you get a clear picture of their intention behind the event and where their expectations stand at. Also, at this stage, we will ask for a dedicated person from the client's side responsible for attending our queries and taking event related decisions, follow ups and updating on any changes required. This mentioned details are received from the
client's side.
Devising Strategies And Securing Agencies
The next step is to plan the implementation of a successful event. This includes agency negotiation, deciding on team members to be deputed at the venue, venue sourcing, special needs to be taken care of, any advanced technology and equipment required to be made available and planning backup plans in a state of emergency and last-minute changes. Following these steps makes sure that nothing significant is missed and your corporate event becomes a huge success. We understand that corporate events leave a permanent impression about the company's reputation on the stakeholders and employees and we therefore make sure to devise a full proof, safe and flawless plan.
Contact Us
LET TEAM BTS PLAN YOUR DREAM WEDDING
From Where It All Starts!